month six
Oct/Nov-2008

28-Oct-2008
---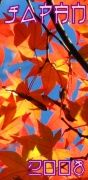 We're flying to Japan! Hannah's first flight from Stuttgart to Helsinki went very well; Hannah calmly sat on daddy's lap during takeoff, and really enjoyed the flight. Only her parents had to cope with even less personal space and had to consider the catering and entertainment needs of Hannah, so we could only eat one after another.
During stopover in Helsinki, Hannah crapped in her diapers: perfect timing. On the long transcontinental flight, Hannah remained calm most of the time; we only had to console her and carry her around a few times. Well done, little lady!
Hannah in her baby bed during the long-haul flight.
30-Oct-2008
---
Hannah has coped very well with the flight and journey, and is now enjoying the warm weather in Japan. The sunshine will help her with shifting her waking hours; her inner clock is still ticking to GMT+1…
With grandma on the sunny patio.
There are many things to view and explore…
…including new shiny toys.
Hannah has her own makeshift bed in the living room for naps.
Hannah enjoys relaxing in her baby seat…
…especially when the telly's on.
On our first day trip to Tanba-Sasayama.
Eating her first rice cookie — all by herself!
She still has tons of fun with her cap.
---
Continue with month 7…