month seven
Nov/Dec-2008
12-Nov-2008
---
Hannah has a running nose, and isn't feeling so well. Two nights ago, she moved 90° in her bed, and slept most of the cold night without a blanket. Shouldn't have let that happen…
---
What is Yasuharu thinking? Hmm, suddenly there's another baby, and it's looking different than me or my older brother. She got some of my toys; will she also grab my rice cake and eat it, too?
Eye contact with cousin Yasuharu.
Fortunately, everything's alright, and everybody's happy.
The two get along well. Later, Yasuharu shows Hannah how well he can already stand on his feet, and even dares to touch Hannah's foot. Hannah is looking at this in silent admiration.
Wow, you can already stand on your feet!
Your feet are so tiny!
---
The weather's warm and sunny, so Hannah gets a tour of the garden from grandpa.
Grandma is feeding Hannah, who evidently likes this.
14-Nov-2008
---
Hannah got her first non-milk meal. She tasted a couple of tiny spoons of rice mash, and swallowed most of it easily.
Hmm, being fed with a spoon.
15-Nov-2008
---
Hannah's days of immobility are finally over. She's (albeit slowly and clumsily) moving forward while lying on her back. Like a frog, she's pushing her legs to lift up her body. Sometimes, she's just moving her pelvis up and down (which looks really funny), but occasionally (depending on the "grip" of the surface she's lying on), she pushes her body forward.
Overall, she's very active, and spends hours playing with toys on a blanket.
So many toys on my blanket!
I'm really cute, right?
Sunny weather, fresh air, and grandma rocking me back and forth.
So relaxing…
17-Nov-2008
---
Breakfast in the morning, and Hannah is happy!
Sitting at the table with the grownups, that's great!
Entertainment all day long: Grandpa is whistling a tune.
At the end of a busy day, Hannah's tired and sleepy.
Apart from sucking bunny's ears, it's also a pleasant sleep companion.
20-Nov-2008
---
First sightseeing (here: Himeji castle)…
…then calisthenics and exploration in the hotel room.
---
Being cute on the blanket.
Cute on closeup.
All smiles — one more time.
25-Nov-2008
---
Mobility plus: Walking chair.
Hey, this is great!
26-Nov-2008
---
Tea time on the patio.
Hannah is flirting with the ladies…
…then gets a lift-up from aunt Kayo.
---
Napping with daddy…
…sitting on daddy's lap in the restaurant…
…being fed by daddy.
27-Nov-2008
---
Having raised three children and now living with two grandchildren in the same house, grandma knows a lot about children's development. She has many good tips and knows which exercises are right for Hannah's age. Hannah enjoys the stimulation and entertainment.
Grandma is helping Hannah to sit.
29-Nov-2008
---
With mommy on board a cruise ship in Kobe harbor.
01-Dec-2008
---
The end of our vacation is near! Last opportunity for group pictures…
Sisters = Mothers.
Grandma with Hannah.
The young family says dōmo arigatō and sayōnara!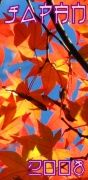 More information and impressions from Japan can be found at ingo's Japan 2008 pages.

03-Dec-2008
---
Returned from Japan. This time, we had to change diapers in mid-flight, but that went well. The first transcontinental leg of the flight fell entirely into Hannah's waking hours, so we hardly needed the baby bed this time. We still had to carry Hannah around and console her, because she suddenly inexplicably started crying.
On the second leg, Hannah fell asleep during boarding, but again woke up because she was required to sit on a grownup's lap during takeoff. As she was very tired, this resulted in a lot of screaming and crying during takeoff. Exhausted, she then slept during the short flight, only to repeat the screaming when she was being positioned for landing.
At home, Hannah is now sitting at the table, too.
I'll have the continental breakfast with hot coffee, please!
05-Dec-2008
---
Hannah got her second round of vaccinations at her U5 examination. She didn't like the weighing and examination at all, and was screaming a lot. She already had slightly elevated temperature that day (probably due to the jet lag and exertions of the flight back; the rest of the family was suffering, too), which turned into fever in the evening. We have her a suppository against fever, which helped pretty quickly.

06-Dec-2008
---
The fever has returned, and at 39.7°C, Hannah is visibly shaken. Fortunately, a second suppository quickly reduced her temperature.

09-Dec-2008
---
Hannah is well and active again, and has resumed eating carrot and potato mash, plus apple puree. Unfortunately, her sleeping times haven't yet fully normalized; she's still waking (and hungry) in the middle of the night.

10-Dec-2008
---
Toys with sound effects — not just in Japan!
Look, I can already sit on the sofa!
---
Continue with month 8…